Our library is open during regular school hours. Flynn students visit our library each week for a 45 minute literacy and/or technology lesson. Students are allowed to check out the number of books that corresponds to their grade: 5 books for 5th graders, down to 1 book for 1st grade and kindergartners. If families would like more books than their students are bringing home, we invite families to open a Flynn Family Library Account and to select more books to share at home together.
EXCITING UPCOMING EVENT…
Author Visit and Book Signing!
Watch a short book trailer or better yet, JOIN US!
Wednesday, December 11th
in the library
9:00 Michalski, Bloomberg, Haggerty and Tinson
10:00 Mack and Abbey
3:30-4:45 Burlington Kids After School Program
Dan will be selling and signing copies of his book during the after school hours for $14.99 for each paperback copy.
Dan will also be donating one copy for every three copies sold so that we can raffle a book (or 2 or 3?!) off to some lucky Flynn student who participates in one of his presentations.
Beat the rainy winter weather blues with some silly rhyming fun!
Thanks to all who were able to join us at the
Fall Scholastic Book Fair
In just two short hours, over $4,000 worth of books were purchased by Flynn families! This included 52 books from the Teacher Wish List table that went directly into classrooms where delighted teachers felt your appreciation for the work they do. These sales also translate into "Scholastic dollars" that we can spend on even more books for the library and classroom collections based on both teacher and student requests. 
In addition, thanks to all the families who offered to round up their purchases to the nearest dollar, another $88.17 was donated to Scholastic's "All for Books" program. This generosity enabled us to purchase books for 49 students who might not have been able to attend the evening event. Scholastic Book Fairs® then matches those monetary donations with a donation of up to $1 million in books from The Scholastic Possible Fund, which distributes books to children through organizations such as the Kids In Need Foundation, Reader to Reader, Inc., and the National Center for Families Learning.
Thanks for supporting our school readers!
STILL AVAILABLE FOR PRE-ORDER:
Ask Mrs. Cudney for the forms you need to fill out to pre-order a copy of this SOON-TO-BE-PUBLISHED title:
Order by Dec. 5 for Dec. 10 release:
Dogman: Fetch-22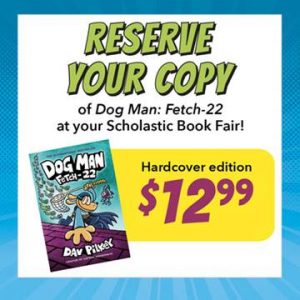 ​Flynn Learners:
*Take on challenging work and persevere in completing it
*Support ideas and claims with evidence
*Understand and critique the ideas of others
*Ask questions to clarify and revise