Our library is open during regular school hours. Flynn students visit our library each week for a 45 minute literacy and/or technology lesson. Students are allowed to check out the number of books that corresponds to their grade: 5 books for 5th graders, down to 1 book for 1st grade and kindergartners. If families would like more books than their students are bringing home, we invite families to open a Flynn Family Library Account and to select more books to share at home together.
Come join us for the
Fall Scholastic Book Fair
Thursday, Oct. 24 from 5-7:00 pm
in the Flynn School Cafeteria.
If that timing doesn't work for your family, please consider checking out the
This service is available beginning Oct. 19 and lasting through Nov. 1, 2019.
Orders ship directly to your house and school still earns rewards for the dollars you spend!
Thanks for supporting our school readers!
TWO BOOKS AVAILABLE FOR PRE-ORDER:
Ask Mrs. Cudney for the forms you need to fill out to pre-order a copy of these SOON-TO-BE-PUBLISHED titles:
Order by Oct. 31 for Nov. 5 release:
Diary of a Wimpy Kid: Wrecking Ball

Order by Dec. 5 for Dec. 10 release:
Dogman: Fetch-22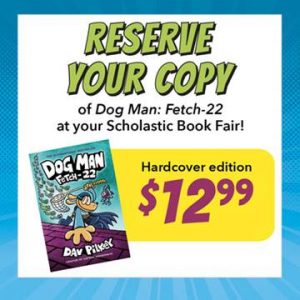 ​Flynn Learners:
*Take on challenging work and persevere in completing it
*Support ideas and claims with evidence
*Understand and critique the ideas of others
*Ask questions to clarify and revise