"Why do we need to celebrate Black History Month and Women's History Month anyway?"
Check out the slide show students considered in answer this question or read the letter from the librarian for an explanation of the library lessons that have been going on in February and March.
Fourth and Fifth Grade Library Sign Makers
Using the library catalog to research a nonfiction subject, series, author, or genre, 4th and 5th grade students designed signs to help other readers find books in these categories. Check out this slideshow to see the impressive results!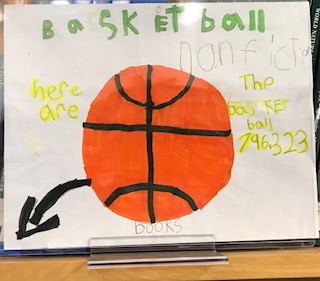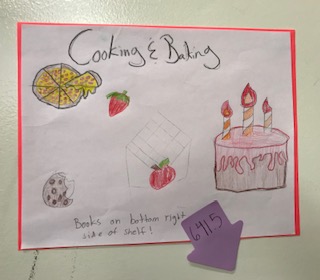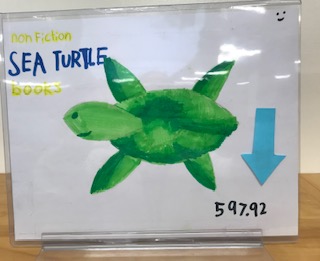 Third Grade Pet Shelf Project
Every third grade student has been put in charge of a "Pet Shelf" in the picture book section of the library. Each week each student displays a book from their shelf using different forms of "advertising" to call attention to the book they have selected. As of mid November 110 books had been checked out by other readers from these carefully curated book displays!
2021-2022 Library Letters Home
A look back at September & October 2021
2020-2021 Library Letters Home
Curious about what Library Learning even is? Take a minute to read these newsletters from your "Library-less Librarian" about the library learning that's been happening at different grade levels in classrooms throughout the school and throughout this year!
Feeling worried that students might not have access to the books they need when they can't go into their school library? Take a minute to look at these Circulation Reports to see just how many books the librarians are getting into readers hands!
Election Resources
November 2020
Here are some books and links that offer different ways to understand our country's system of government and why so many people think voting is so important.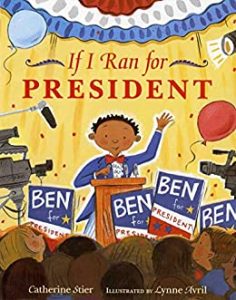 Click on the cover of If I Ran For President to hear three young readers share this book that begins with the decision to run for political office and ends with inauguration day, touching on many other aspects of political campaigns along the way. Presented by Storytime Online.
Log on to your class Epic account (or visit the Library Learning Links to access Epic) to read their series "Why Voting Matters."

On Epic you can also read and listen to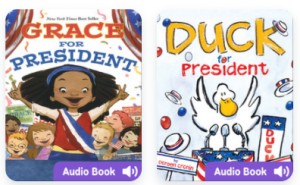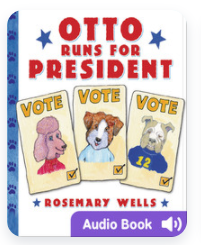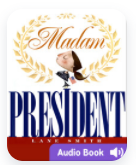 Try a Democracy Doodle with Mo Willems (author and illustrator of Elephant & Piggie, of course!), originally produced on election night, but fun to try anytime and with a thoughtful message for all time.
Confused about the Electoral College? Check out this 3 minute video explaining how this aspect of our voting system works. Brought to you by commoncraft.com
has an article about Voting, too.
And right here at Flynn School 4th and 5th graders had a chance to vote for the new name for the Vermont Middle Grades Books Award.
We compiled our votes with the other Burlington schools:
| | | | | | | | | | | | |
| --- | --- | --- | --- | --- | --- | --- | --- | --- | --- | --- | --- |
| SCHOOL | CATAMOUNT | GOLDEN DOME | HONEYBEE | HERMIT THRUSH | MAPLE TREE | MAPLE LEAF | SUGAR MAPLE | MAPLE | SAP BUCKET | | STUDENT TOTAL |
| Champlain | 17 | 11 | 13 | 4 | 5 | 5 | 10 | 0 | 1 | | 66 |
| EES | 25 | 15 | 0 | 7 | 5 | 4 | 4 | 3 | 8 | | 71 |
| Flynn | 12 | 15 | 9 | 8 | 3 | 8 | 7 | 4 | 0 | | 66 |
| C.P. Smith | 5 | 14 | 4 | 4 | 1 | 1 | 10 | | | | 39 |
| IAA | 1 | 4 | 2 | 2 | 2 | 3 | 1 | 0 | 0 | | 15 |
| SA | 1 | 7 | 5 | 3 | | 1 | 2 | 2 | | | 21 |
| Hunt | 40 | 48 | 19 | 14 | 10 | 16 | 17 | 5 | 15 | | 184 |
| EMS | 3 | 6 | 2 | 2 | 0 | 7 | 1 | 0 | 0 | | 21 |
| | 104 | 120 | 54 | 44 | 26 | 45 | 52 | 14 | 24 | 483 | 483 |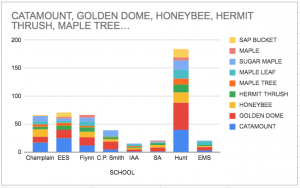 After that, our votes will be added to those of all the other participating 4th through 8th graders in Vermont. Stay tuned for the winner…!
Unified Arts "Rotation"
September 2020
Your Flynn Music, Art, P.E., Guidance, S.T.E.A.M, and Library Teachers are having to adjust to a new way of seeing their students.
For two weeks at a time, each UA teacher is assigned to a grade level pod. We get to work with the classes in this grade every day for those two weeks (which is awesome!) but we don't get to see the students in any other grade (which is not so awesome.) We figured that just like we are missing the students we don't get to see, you might be missing the teachers you don't get to see.
So we teamed up to create some activities that let you practice all the different kinds of thinking that happen in different UA classes. We focused these activities on a story that each of us shared with the students in our first pod.
Sweety is a story about a naked mole rat who doesn't exactly fit in with the other naked mole rats. With a little encouragement from her Aunt Ruth, however, she realizes the importance of being true to what makes you you.
Click on this book cover to explore some activities that will let you think more about this courageous and quirky book character!
2020-2021 Library Letters Home
Click on the links below to read the news about the Library Learning that's been happening at each grade level:
Monthly Circulation Report
Is it really time to think about Summer?!
June 2020
Librarians everywhere want you to keep reading!
Check out what Ms. Rebecca from the Fletcher Free Library wants you to know about what is happening there this summer – and what the Fletcher Free Library plans on bringing to you!
Click on Ms. Rebecca's picture to see her introduction and then look at the info in this Summer Reading Challenge slideshow for even more details!
Calling all artists and Harry Potter Fans!
Have you ever heard of Harry Potter? (ANSWER: Yes, of course!)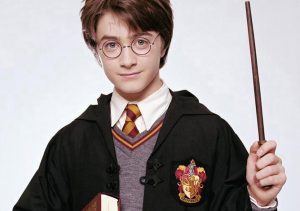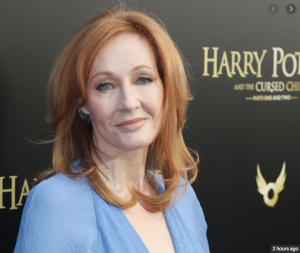 Have you ever heard of JK Rowling? (ANSWER: Well, if you know Harry Potter, then you do actually know JK Rowling because she is the person who created Harry Potter!!)
But Harry Potter is not the only story that JK Rowling has written! There is a story she wrote for her children a long time ago, but then put in the attic and kind of forgot about…until now! She is now publishing The Ickabog online, one or a few chapters at a time, so that people can read it while they are stuck at home during quarantine.
The reading is a little bit challenging, so it might be a fun story to share with an older reader in your house.
Even better, JK Rowling is having an illustration competition. She wants YOU to draw the pictures that her story makes you imagine. You can find all the details about what to draw and how to enter on the Ickabog website. The competition runs until July 17. Then the judges will pick the illustrations they think do the best job of capturing the story. These illustrations will go into the book when it actually gets published in November.
Will I buy a copy of this book for our library? (ANSWER: Yes, of course!)
And how cool would it be if one of our Flynn Firefly artists was one of the illustrators?! (ANSWER: so, so, so cool !!!)
My, oh, my! What a surprising and confusing time this is!
If you are reading this, you might have gotten this website address from a sign you found along the trails in the Flynn Forest. If that's how you got here, scroll down to the entry for Friday, 3/27/2020 to find some Creature Fact Challenges!
Or maybe you are here because you clicked on the word "LIBRARY" on our Flynn School homepage.
You might have been trying to get to the Learning Links where you can:
listen to some stories
or do some math practice
or try some coding
or practice your keyboarding
Or you might have been looking for the Research Resources where you can learn about:
science
or any topic you might be interested in!
I've also just added some links to some PODCASTS that you might be interested in listening to – some of them even offer information about the coronavirus that is the reason we are all being asked to give each other a lot of personal space.
But since you are here, I want you to know that I will miss all my Flynn firefly friends in the library for the next little while.
I will plan to add to this page with book-related discoveries, suggestions, and musings, so if you get bored feel free to check back in and scroll down to see what's new.
I want to encourage all of you to keep reading (of course!) and to keep smiling!
Daily(-ish) Discoveries, Suggestions, and Musings of a Library-less Librarian
Tuesday, 4/7/2020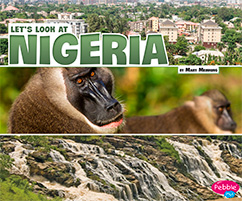 Did you think I had forgotten about you?! No way. I've just been trying to find new and interesting things to share with you. So here is a new combination of sources to get you thinking about a country in Africa.
First, a book. Go to

on the Learning Links page and type NIGERIA into the search field. You will find this book:
Second, a database article. You can find even more details about the country of Nigeria using

on the Research Resources page. Click on "Countries and Cultures" and then find "Nigeria" alphabetically in the N list of countries.
Third, a game. The game is called Dara, played in Nigeria by the Dakakari people, as well as in Niger and Mali.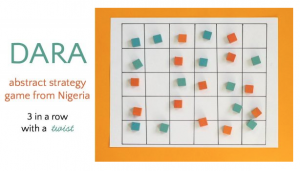 It is a three-in-a-row game, of sorts, but that is not how you win the game, just how you capture your opponent's pieces. I found this game on a blog I follow (which I have mentioned in another of my daily-ish notes) called What Do We Do All Day? Click on that link to find complete instructions on how to play, a video demonstration of the game being played, and a printable game board – though I bet you can make your own grid with 5 squares in one direction and 6 squares in the other direction. And you can use anything you have for the playing pieces: Cheerios and elbow macaroni would work just as well as little orange and blue cubes. Paperclips and pennies would work fine, too. You just need 12 of each kind of playing piece. Have fun!
Thursday, 4/2/2020
Oh dear. I have had less time to read these past few days because I have been busy "meeting" some people who are interested in being your new PE teacher when Mrs. Dvorak retires. This has me thinking about what kinds of exercise you can do when you are stuck at home. Yoga seems to be a very popular answer to this question these days! Since I am still the librarian and NOT the PE teacher, I will approach this topic, of course, with books!
has a series of yoga books with detailed descriptions of different yoga poses that you can choose to have read aloud to you – kind of like having a yoga teacher in the room with you! Just type "yoga" into the search field and it will offer you all 4 of these titles.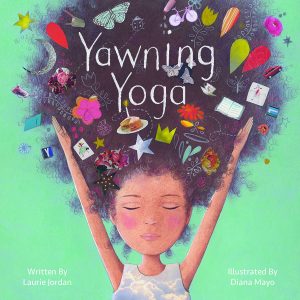 offers Yawning Yoga and I Am Yoga in its digital book collection. If the illustrations in I am Yoga look familiar, it is because they are by Peter Reynolds who also wrote and illustrated The Dot (which you can find on Mrs. Plumer's Artrageous Activities page!) If you think a song version of I Am Yoga sounds interesting, you'll want to explore Emily Arrow, a singer and songwriter who does a live musical podcast every weekday through the Fletcher Free Library Kids Virtual Events Calendar!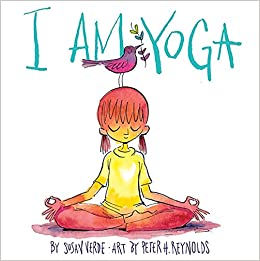 Monday, 3/30/2020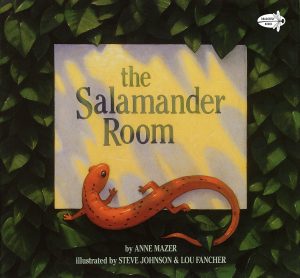 Today I read a picture book – a very old favorite (published in 1991!!) that I read to my children so many times it is completely falling apart (and my librarian book tape is locked up at school!). It is called The Salamander Room by Anne Mazer, and I am hoping to share it with many of you as a video read-aloud sometime soon. In the meantime, you can just enjoy the illustrations by Steve Johnson and Lou Fancher which I have turned into a slideshow to make it easier for you to see the pictures while I read. I wonder if the pictures might give you some good ideas when you are thinking about the "Creature Pet Imagination Challenge" which I mentioned in my note from last Friday…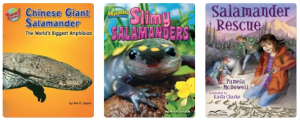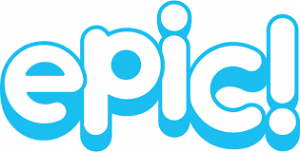 doesn't have this fiction book, but it does have several other non-fiction books you could choose from its collection that could help you learn how to really take care of a salamander!
Friday, 3/27/2020
Today I headed into the Flynn Forest to set up a new kind of Library experience. Watch this FLYNN FIREFLY FOREST FACTS slideshow to see what I was up to and how you can now do a little creature research while still practicing social distancing. Before or after walking in the woods (because that's what's required to do social-distancing-creature-research!), try one of the creature fact challenges below! —MORE COMING SOON—Then email me (acudney@bsdvt.org) or send me a letter (Amy Cudney, 116 Walnut Street, Burlington, VT 05401) to show me what you learned! Happy hiking!?!!
Choose any of the following challenges depending on which signs you found and which creatures interested you the most!
Wednesday, 3/25/2020
Remember when we had a visit from a silly, ukulele playing poet named Dan Holtz? Well, even if you don't remember, you will have a new opportunity to experience his wacky, rhyming-ish humor and poetry – every Wednesday in April starting one week from now! Here's what Dan wants you to know: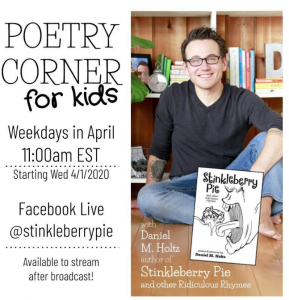 APRIL is POETRY MONTH!
e-Learning parents…. have your kids tune in here to Facebook Live, every weekday in April at 11:00am Eastern (8:00am Pacific), for Poetry Corner! About 20 minutes of educational entertainment for kids, and the kid in you! Feel free to ask questions and comment live. And, every episode will be available to stream after broadcast!
Tuesday, 3/24/2020
Here is a word that that might be new to you that I think sums up what it feels like to be dealing with all the changes we are making in our daily lives:
SURREAL adjective
sur·​re·​al | \ sə-ˈrē(-ə)l also -ˈrā-əl \
Merriam Webster Dictionary defines this word like this:
1: marked by the intense irrational reality of a dream
also : UNBELIEVABLE
When I look outside and everything pretty much looks the same and the sun is shining and I see someone walking their dog…but it is a Tuesday at 10:00 in the morning and I am still wearing my pajamas instead of being at school, that feels surreal. Like maybe I am wearing my pajamas because I haven't actually woken up yet. Except that I have.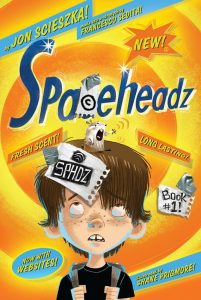 So the book I chose to read next was perfect. Spaceheadz by Jon Scieszka and Francesco Sedita is a simply wacky story about a kid named Michael K. who is starting fifth grade in a new school. It's always a little weird being the new kid, but there are two other new kids who make this experience even nuttier. That's because they are aliens – though Michael K. seems to be the only one who realizes this. The one who looks like a girl but talks like a wrestling announcer calls herself Jennifer. Most of the things the one who looks like a boy and calls himself Bob says sound like slogans from commercials. And then there's the hamster, of course, Major Fluffy, who sounds like a hamster to Michael K., but can clearly communicate with "Jennifer" and "Bob" and is, they tell Michael, their leader. And the teacher has decided that the three new kids can all work together. Book 1 of a 4 book series that leaves you wondering what will happen next!
I have not (yet) been able to find a digital version of this Spaceheadz series to share with you, but I did find a cool looking connection. Also by Jon Scieszka is the Frank Einstein series. And that six book series is available on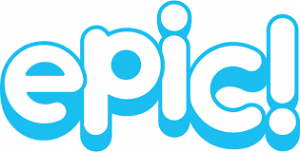 Go to the Library Learning Links page to get onto the epic site.
Friday, 3/20/2020
It probably won't surprise you that a librarian without a library might spend a lot of time READING. I brought home a whole basket of books to keep me busy and chose at random (I thought) the first two. So far I have read:
I Survived the San Fransisco Earthquake, 1906 and The Last Kids on Earth and the Nightmare King. Perhaps I am still a little worried about what's going on in our world right now…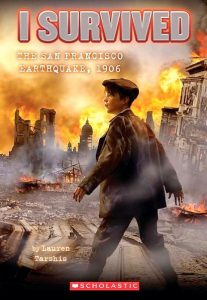 First of all, as the title suggests, Leo does survive the earthquake. Although Leo is a fictional character, the San Fransisco earthquake of 1906 was quite real. (That makes this book an example of historic fiction.) At the beginning of the story the reader quickly figures out that Leo is living totally on his own – as an 11 year old. He sells newspapers every morning and gets really excited about the idea of earning enough money to buy a warm bun and maybe even a cold glass of milk. There was no school food service preparing meals for kids who might be hungry back then. This helped remind me of all we have to be thankful for right now.
Sadly, you can't check this book out of the library right now to have your turn reading it. You CAN, however, find it on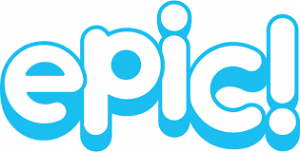 as well as 14 other titles from this series that can take you into disasters like the Great Chicago Fire, Hurricane Katrina, and the Sinking of the Titanic. Go to the Library Learning Links page to get onto the epic site.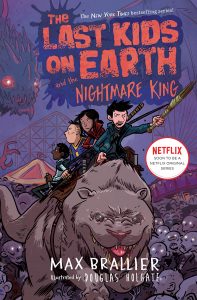 The Last Kids on Earth and the Nightmare King is the 3rd book in its series (The Last Kids on Earth). I have not read books 1 or 2. Sometimes I try diving into the middle of a series to see whether it's important to read the books in order – or not. In this case, the author Max Brallier does a great job of offering enough hints or reminders about events from the previous books (such as the Monster Apocalypse!) to make what happens in this book totally understandable. There are lots of very funny illustrations including maps of where the kids and their monster and zombie neighbors now live, as well as comic-book-style pictures of the characters commenting on various situations, in addition to diagrams highlighting the important (and often dangerous) features of the many strange creatures that now inhabit planet earth. This book is TOTALLY fiction but offers many ingenious ways of using whatever resources you might have available (from stale PopTarts to grocery carts to tennis ball launching machines) for surviving whatever problem or challenge you might face. Are you a Diary of a Wimpy Kid fan? You should totally try reading this series next.
See the tiny white circle on the cover of the book? That's because these books have been turned into a Netflix series that you could maybe watch until the time comes when you can check books out of the library again.
Thursday, 3/19/2020
I subscribe to a blog called "What do we do all day?" that often offers interesting booklists. Today's update included this link to Movies based on children's books that are perfect for families with tweens.
Of course, a librarian will always suggest that you read the book first, but in unexpected times like this, we all make adjustments! So if you have earned some screen time, why not try a BOOK MOVIE for a break.
Then when you get back to school, you can ask to check out the actual book! Here are the books available in our Flynn library collection whose movie version trailers are featured in the link above: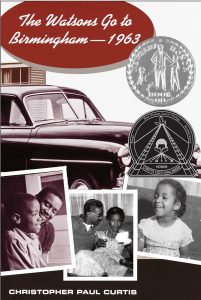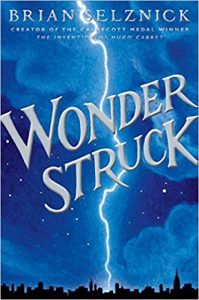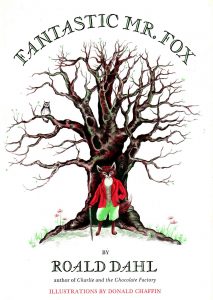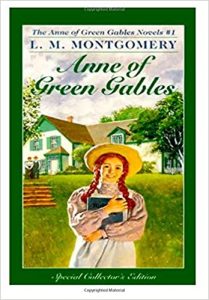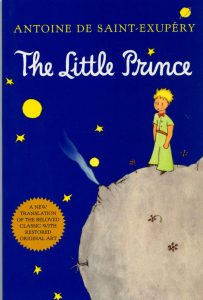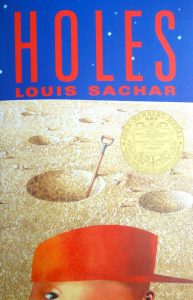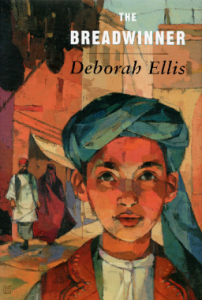 During normal times…
Our library is open during regular school hours. Flynn students visit our library each week for a 45-minute literacy and/or technology lesson. Students are allowed to check out the number of books that corresponds to their grade: 5 books for 5th graders, down to 1 book for 1st grade and kindergartners. If families would like more books than their students are bringing home, we invite families to open a Flynn Family Library Account and to select more books to share at home together.
Perhaps you heard stories about our…
Author Visit and Book Signing!
If not, you can watch a short book trailer or watch the promotional video that includes footage of our very own Flynn Library when Dan Holtz visited us back on
Wednesday, December 11th
Dan sold and signed 15 copies of his book.
In addition, Dan had offered to donate one copy of his book for every three copies sold, so we ended up with 5 copies that went to some lucky Flynn winners!
Congrats to Dom, Shyarika, Carter B., Emin, and Romeo!
*****************************************************************************************************************************************************************************************
Thanks to all who were able to join us at the
Fall Scholastic Book Fair
In just two short hours, over $4,000 worth of books were purchased by Flynn families! This included 52 books from the Teacher Wish List table that went directly into classrooms where delighted teachers felt your appreciation for the work they do. These sales also translate into "Scholastic dollars" that we can spend on even more books for the library and classroom collections based on both teacher and student requests.
In addition, thanks to all the families who offered to round up their purchases to the nearest dollar, another $88.17 was donated to Scholastic's "All for Books" program. This generosity enabled us to purchase books for 49 students who might not have been able to attend the evening event. Scholastic Book Fairs® then matches those monetary donations with a donation of up to $1 million in books from The Scholastic Possible Fund, which distributes books to children through organizations such as the Kids In Need Foundation, Reader to Reader, Inc., and the National Center for Families Learning.
Thanks for supporting our school readers!
​Flynn Learners:
*Take on challenging work and persevere in completing it
*Support ideas and claims with evidence
*Understand and critique the ideas of others
*Ask questions to clarify and revise