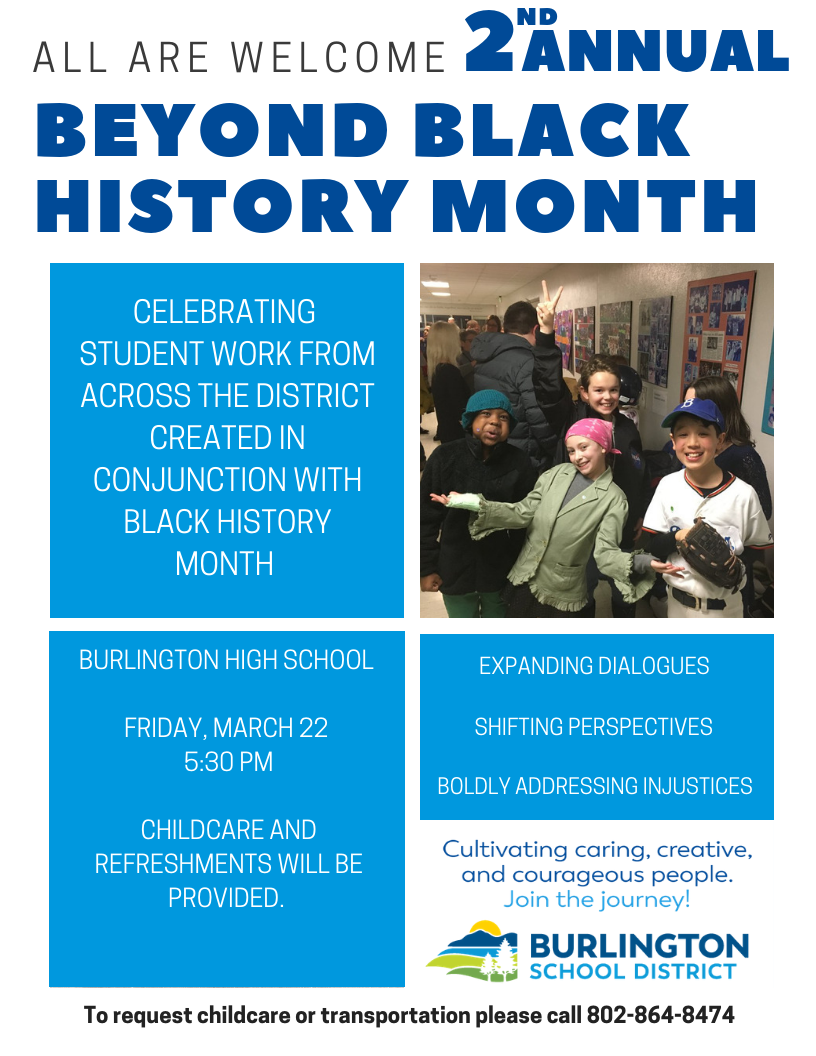 Continuing the spirit of inclusive curriculum, and recognizing that Black History does not end when March begins, Burlington School District (BSD) is proud to announce the 2nd Annual Beyond Black History Month will take place on March 22nd from 5:30 to 7:30 PM at Burlington High School.
Presented by the District Equity and Access Leadership Team, the event will feature exhibitions and presentations from students from around the district reflecting on Black History Month and what they been studying throughout the year. Attendees can expect an engaging and inclusive evening of conversation, education, and community building.
"This comprehensive, District-wide event once again aims to continue – not conclude – our community's momentum in expanding dialogues and shifting the perspectives around true equity and inclusion in our curriculum and our schools," said Superintendent Obeng. Obeng noted that nearly 200 people attended the celebration last year.
Guests will have an opportunity to engage in breakout sessions about race, hear from students who have been working on civil rights and diversity-centered assignments, and see performances by the BHS dance team as well as IAA and C.P. Smith's choirs. In addition, IAA Morning Drummers will perform alongside the Jeh Kulu Dance and Drum Theater.
A variety of community partners like Burlington CEDO, Parents and Youth for Change, and others will also be on hand displaying information and resources and engaging in these important conversations. Childcare and dinner will be provided! To sign up for childcare, call (802) 864-8474.