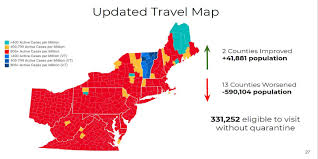 Are you and your family thinking about traveling outside of Vermont? If so, here is a link to the Vermont Travel map that shows cases per million; it is color coded and intended to be used to
determine if you need to quarantine upon return or not.
What are the quarantine guidelines when returning to Vermont?
If traveling by personal vehicle to a county with less than 400 active cases per one million residents of COVID-19 (GREEN area on the map) , you do not have to quarantine once returning to VT.
If traveling to a county with more than 400 active cases per one million residents of COVID-19 (YELLOW or RED areas on the map), you must quarantine for a total of 14 days or 7 days with a negative COVID test.
Traveling by airplane, regardless of the color of the place you are traveling to, is considered high risk and the same quarantining guidelines should be followed as traveling to a RED area.
What if the color changes in the county you're visiting before you return to Vermont; what do you do?
If the color changes — Please use the color of the county on the day you leave VT to help you determine whether or not you need to quarantine when you return to VT.
What does this mean?
An example: You plan to travel and are leaving today. You check to see what the color of the county you're traveling to is and it's GREEN. It is now Sunday and you're planning to travel home but you notice the county you have been in all weekend is all of a sudden red. As long as you have traveled in your personal/private vehicle, you do not need to quarantine once you're back in VT since the color was green when you left VT.
Are you hosting friends/family from another county and are unsure as to whether or not your household (not your guests) should be quarantining as well?
Hosting friends/family members from outside of VT — While your guests may need to quarantine based on what color the county is that they're traveling from, you and your family who reside within the household do not need to quarantine as well. Quarantining guidelines are only applicable to the traveler, and therefore students CAN still come to school when someone in the house has traveled from any other area.
This also applies to family members who may have traveled. The family member who traveled should follow quarantine guidelines. Those who stayed home can still go to school and out into the community as usual, but the person who traveled should not.
Please note: Be sure to maintain at least 6-feet distance from those who have traveled and wear masks when in common spaces (even inside your home) where social distancing is not possible. Remember to frequently wash your hands as well as frequently touched surfaces (e.g. bathroom, kitchen) until the end of the quarantine period (either 14 days or 7 days followed by a negative COVID-19 test).